Texas Stardust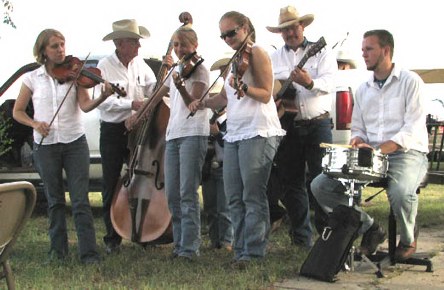 Texas Stardust is a five piece band specializing in traditional Texas fiddle and dance music. Influences include Bob Wills, Frankie McWhorter, Bobby Koeffer, Bob Boatright, and Joe Stephenson. As former members of Lanny Fiel and the Ranch Dance Fiddle Band they have traveled all over Texas and parts of New Mexico performing this unique music for dances, private events, and radio shows. Band members include (from left to right) Tracy Bohn, Dale Winders, Stacy Bohn, Kalli Burk, Daron Brown, and Matthew Hart.
Stacy and Tracy Bohn are twin sisters from Shallowater, TX. They have played fiddle for ten years. Both are graduates of South Plains College where they played regularly with the college Celtic ensemble, County Hockley Ceili. They are currently employed in concert production at Miller Pro Audio in Lubbock, TX.
Dale Winders, who plays bass for Texas Stardust, is from Dimmitt, TX. Dale played bass with Lanny Fiel and the Ranch Dance Fiddle Band. He also recorded and performed with Flatland Bluegrass and is still with the group today. Besides playing bass, Dale is Kalli's grandfather, and he bought her first fiddle when she was 11 years old.
Kalli Burk, from Lubbock,TX, has played fiddle for twelve years and is a senior at Texas Tech studying for a Bachelor of Arts in music with an emphasis on Celtic fiddle. In addition to teaching private students of all ages the traditional Texas fiddle, she has also taught several summers at a Western Swing fiddle camp in Crowell, TX with Bob Boatright.
Plainview native Daron Brown is also a graduate of South Plains College and has played guitar with a variety of artists and bands. Daron is a multi-instrumentalist, proficient in many genres of music. He also performs vocals, bass, steel guitar, banjo, mandolin, and fiddle.
Matthew Hart, Texas Stardust's drummer and rhythm enforcer, has been playing drums for twelve years. His previous experience includes drumming for Benchmark, Catalyst, Shane Bernard, and playing percussion for the Lubbock Youth Symphony Orchestra. He has also played for several years in many praise and worship bands. Born in Ralls, TX, he now resides in Lubbock with his wife, Emily.