Gallery & Dance Platform News
September 18, 2010 was our final day for the Dance Platform and Gallery. After fifteen years we have decided we aren't as agile as we once were! Our wonderful help are all moving slower and we decided NOT to build a wheel chair ramp to the kitchen. It was with mixed feelings thet we decided to bring the 15 year party to a close. We dearly love the dance night folks who have given us a hug for fifteen years. This has been a gift that I know I'll never forget. Those of you in 1995 who bought the seats on the platfom for $100 - you who put money down for an idea in someone's head - we hope the returns on that investment came back to you fifteen times over! We gave it our best.
Thank you again from the bottom of our souls for your contributions and participation in this fifteen year project.
"It sure was love while it lasted!"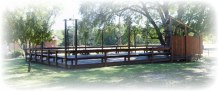 Debby & Jan